I'm excited to feature Shanyn Hosier on my blog today, not just because she's a good friend, but because of her unique book series that features a menage relationship. I've never delved into a book featuring a MMF relationship, but find the story of these characters very intriguing and have added the series to my to read pile.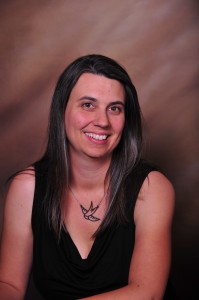 It's Tricky With 3: My Unconventional Ménage Trilogy
Being the focus of two partners at once is a familiar sexual fantasy for both men and women. All those hands and mouths must bring double the pleasure, and two like-minded lovers ought to double the romance, right?
Ménage romances are hardly news. They're a growing sub-genre and boast a loyal following of readers. What's so "unconventional" about my stories, you ask? A few things, I think…
My Desert Ménage series features an MMF, rather than MFM, partnership as it evolves. MMF means that the men share a physical and emotional relationship with each other, compared to MFM, where they both partner with the woman but not each other. Furthermore, a threesome can be classified as a V, where two individuals share one partner in common but not each other, versus a triad, where all three members share equal relationships. Theoretically, a triangle is geometrically more stable than a point on balance. In my case, Paul and John, both bisexual, decide to open up their long-term, monogamous, gay relationship to a straight woman, Beth. It's a triadic arrangement from the very beginning.
The relationship my characters share was not stumbled into by accident. It's not a group of friends who decide to experiment sexually for a weekend. And it's definitely not a vacation fling. This is three mature individuals who embark on a new relationship on purpose, committing to making it work from the get-go. All this mushy, exciting, terrifying falling-in-love business is depicted in the first book of the series, Nine Dates.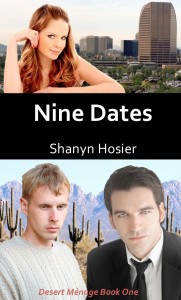 But there are real-life consequences to their decision, both internal and external.
Read any polyamory blog, and you'll find a recurring obstacle to group-love bliss: jealousy. It's all well and good to spout platitudes about compersion (taking pleasure in a loved one's pleasure, even when it doesn't directly involve you), but it's certainly easier said than done. Jealousy is a natural reaction, and sometimes Paul feels threatened by John's interest in Beth, even though he shares that interest.
My characters also struggle with the decision to "come out" to their friends, family, and coworkers, many of whom have very strong feelings about this unconventional relationship. The trio constantly strives to find the balance between keeping private things private versus living in a closet. While John's progressive-minded family have always made him feel loved and accepted, Paul's more conservative family have already disowned him for being in a gay relationship. Beth is worried her strained relationships with her friends and mother might not survive the revelation. These are the kinds of conflicts highlighted in book two of the series, Tri Me, as the threesome's romantic bonds are challenged and strengthened.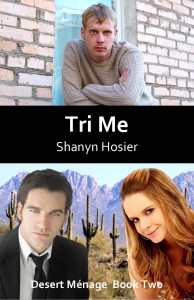 And then there's the judgmental world we all live in. My characters don't just fear a possible backlash to coming out, affecting their careers, friendships, even family bonds. They're also subject to the constant, though at times subtle, marginalization of all that is different about their relationship. Happy, healthy threesomes aren't generally depicted in advertising campaigns, magazine articles about relationships, or those fake family pictures in store-bought frames. And that doesn't even touch on the huge financial, legal, and social issues like marriage, home ownership, paternity and custody rights, tax implications, Social Security benefits, or hospital visitation rights. These are the kinds of obstacles Beth, Paul and John will face in the final book of the series, Wholly Trinity.
Yes, my ménage series offers plenty of the sexy, steamy goodness we've come to expect from three people in a bed. But it also features the real-life struggles of people in unconventional relationships. The good news is that, on the other side of all that drama and hard work, a happy ending awaits for Beth, Paul, and John.
Polyamory ain't for sissies…
Titles available in ebook and paperback formats on Amazon:
Nine Dates (Desert Ménage Book One) John and Paul have built a strong foundation of love between them. Will Beth be added strength… or a wrecking ball?
"I LOVED this book! Sweet, funny and oh so HOT!"  — Linshaleigh, 5-star Amazon review
Tri Me (Desert Ménage Book Two) Gossip, blackmail, and sabotage… Can their unconventional love survive?
"Fresh take on a committed ménage relationship" —Reader79, 5-star Amazon review
Coming in 2014: Wholly Trinity (Desert Ménage Book Three) Love, Marriage, and a family—it all sounds so simple, but not for an outlaw threesome. What's stopping them from making their happily ever after official? Just about everything…
For more information and to read excerpts for these and other releases by Shanyn Hosier, please visit www.shanynhosier.com.