This is such a hot treat to have as my special guest today, Bakari, the Egyptian God of Death. My kind of guy 🙂 He comes courtesy of Jean Murray and her Key to the Cursed Series. Bakari's story is featured in Book II: Soul Awakened.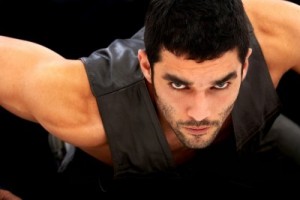 Please tell us a little bit about yourself?
I am Bakari, a four thousand year old Egyptian god. The son of Asar, the Lord of the Underworld. I am reponsible for guarding the gates of Aaru, the Paradise Isle of the Underworld. My father bestowed upon me the power to kill gods. Five years ago, I was kidnapped by our enemies and entombed in a sarcophagus. I am only here today because of Kendra. She unlocked my tomb and saved my soul.
A terrible thing your enemies did. What other person in your book do you dislike? Why?
Hate would be a more accurate term for how I feel about Kepi, the malevolent goddess who put me in that gods forsaken box. She is the epitome of evil and so kindly locked me in with poisonous black scorpions.
Ow. What was one of the toughest things you have had to do (although the poisonous scorpions must rank pretty high)? 
Wake up every day. After Kendra released me I was in a very dark place. One where life was not worth living, but she changed everything. She was my hope when I had none.
What's the one decision you've made that you regret the most and why?
I have many regrets. The one I regret the most is betraying my father. My vision was colored by greed and lust, and I tried to take what was not mine. I see it so clearly now, but then, I could not see past my deceit.  My brother, Bomani, had always seen me for what I was. I understand that now, but I think it is too late.
Is there an illegal act you would commit without guilt and why?
Killing Kepi – that I would not regret. She is responsible for the curse against man-kind. Her death will lift the curse and allow me to sleep at night.
If you could change one thing about your childhood, what would it be?
I would be more appreciative of my brother, Bomani. I grew up in the palace while he suffered and fought every day in the warrior village. I never truly respected his sacrifice until now. Despite being created by the same father, our differences are too great. I fear he will never forgive me.
Sounds like he'd have an interesting story to tell (hint, hint Jean:) Tell us something about your hometown.
Aaru is more of a realm than a hometown.The ancient Egyptians believe in the afterlife, a life after death. Aaru is just that place. The Underworld River fed by the Nile snakes through the Isle. From the Underworld palace I can see across the water to the fields of grass and riches that await the righteous souls.The white sand beaches stretch for miles along the river. Food is plentiful. There is no suffering, only happiness. The great gates separates Aaru from Duat. It is my job to ensure no one threatens this holy land.
What are you passionate about these days?
Kendra Carrigan is my passion. For as small as she is, she is the most powerful individual. Hell, she broke the spell to release me. Did I mention she is Creation demi-god? According to the ancient laws, our relationship is forbidden. She is worth breaking the law.
She is my Parvana, my butterfly. I owe her my life.
Is there a piece of advice that you have received that has really stuck with you? If so, what was it?
My father told me that if you cannot forgive yourself you can never really look toward the future. He is right. If you are always looking back, how can you see what is coming? I will never forget his words. So glad I took his advice.  
Bakari, I wish you the best and hope you attain your Parvana, and watch out for those scorpions 🙂
Book I: Soul Reborn
Barnes and Noble Purchase Link
THE HUMAN REALM, HIS BATTLEFIELD.
Asar, the Egyptian God of the Underworld, has been tortured and left soulless by a malevolent goddess, relegating him to consume the very thing he was commissioned to protect. Human souls. Now an empty shell of hatred, Asar vows to kill the goddess and anyone involved in her release, but fate crosses his path with a beautiful blonde huntress who has a soul too sweet to ignore.
DEADLY SECRETS BETTER LEFT UNEARTHED.
Lilly, fearless commander of the Nehebkau huntresses, is the only thing standing in the way of the goddess' undead army unleashing hell on earth.  But Lilly has a secret—one she is willing to sell her soul to keep. If the Underworld god discovers her role in the dig that released the goddess, she will lose everything, including his heart.
Reviews:
Romantic Times (RT) Book Reviews (Sept2011) –  4/4.5 stars/Scorcher, http://www.rtbookreviews.com/book-review/soul-reborn
Bitten by Paranormal Romance – 5/5 Alpha Howls, Hot http://www.bittenbyparanormalromance.com/2011/07/review-of-soul-reborn-key-to-cursed.html
Goodreads – http://www.goodreads.com/book/show/11135250-key-to-the-cursed
Night Owl Reviews:  Reviewer's Top PICK/ 5 Stars (Abigail, Feb2013)  "The first book in the "Key to the Cursed" series was absolutely phenomenal. Anything that deals with old world deities and is written well always hooks me from the get go. This was definitely an excellent book to begin a new series."  http://paranormal.nightowlreviews.com/V5/Reviews/Angibabi4-reviews-Soul-Reborn-by-Jean-Murray
Book II: Soul Awakened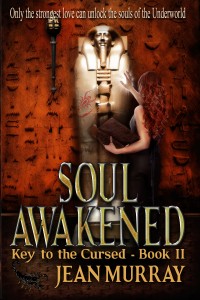 Barnes and Noble Purchase Link
LOVE FOR BLOOD OR HONOR
Kendra, an Egyptologist and demi-god in waiting, is the key to unlocking Bakari, the Egyptian God of Death, from his cursed slumber. Desperate to free him, she inadvertently binds herself to the god with a spell that only death will undo. To save Bakari from himself, she may have to sacrifice her innocence, and possibly her soul, before he becomes his family's worst enemy.
HAUNTED BY SINS OF THE PAST
Bakari awakens to a world at war and a beautiful woman who has tethered his soul to hers. In the wake of his self-destruction Kendra is his only hope of salvation, but another has vowed to keep Bakari from the one thing he craves most– his Parvana. His butterfly.
Reviews:
Bitten by Paranormal Romance, Ollie (Feb2013): 5/5 Alpha Howls, Hot
"I don't know where to begin to describe the absolutely marvelous job that the author does in not only creating a wonderful world with so much depth and detail, but a story line the has the mystery and intrigue that will keep you glued to the pages."  http://www.bittenbyparanormalromance.com/2013/01/arc-review-of-soul-awakened-key-to.html?zx=7d4a84f0db7635b8
Goodreads:  http://www.goodreads.com/book/show/16484518-soul-awakened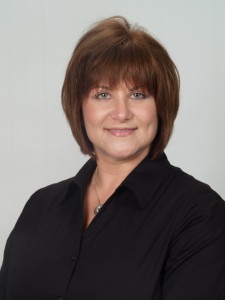 Jean Murray Bio:
In her pursuit of a nursing degree, Jean Murray aspired to see the world and joined the Navy. At the end of 2011 she said a heart-breaking goodbye to her Navy family and retired after twenty years of military service. Although her dreams of writing full time have yet to come true, she continues her writing journey and draws inspiration from her travels abroad. She enjoys spending time with her family and of course, writing about the "Carrigan sisters and their mates, Gods of the Underworld," to bring you the next installment of the Key to the Cursed series.
Author Jean Murray brings a wonderful new spin to the paranormal world with her Egyptian Underworld gods. She broke ground in the paranormal romance genre with Soul Reborn and now continues the Key to the Cursed journey with Soul Awakened. See what readers and reviewers are saying about her new book: Goodreads.