Since we've been on the topic of new releases ;), I'm pleased to feature Cynthia Woolf and her new release, Fiery Bride!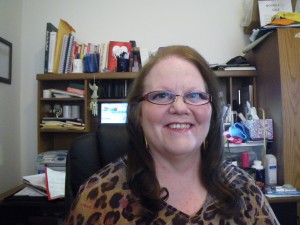 Cynthia Woolf was born in Denver, Colorado and raised in the mountains west of Golden. She spent her early years running wild around the mountain side with her friends.
She was and is an avid reader. Her mother was a librarian and brought new books home each week. This is where young Cynthia first got the storytelling bug. She wrote her first story at the age of ten. A romance about a little boy she liked at the time.
Cynthia credits her wonderfully supportive husband Jim and her critique partners for saving her sanity and allowing her to explore her creativity
Thanks for joining me today. Please tell us a little bit about yourself. Hobbies/interests? When did you start writing?
Well let's see, I'm older than I think I am, except when I get up in the morning and my back hurts, then I think I'm older than I am. 🙂
I like to garden, read and fish.  We haven't been able to go fishing for several years now, but we are determined to go this year.  My garden is growing but the heat this year is taking its toll.  I don't like to go out and weed it or water it in the heat and sometimes I forget on our watering day so the flowers are the worse for wear right now.
I wrote my first story at least the one I can remember when I was ten.  It was a romance, of course, about a little boy named David Williams, that I liked at the time.  I'm amazed I still remember his name.
It is amazing some of the things that stick in our minds. Speaking of…How did you get the story idea for your current title? I find the concept for your matchmaker series intriguing.
I wrote the first two books in this series and always knew that I'd be doing Maggie's story.  She called to me from the very first page of book one.
Are you an outgoing person? Are you a morning or night person?
I have severe insomnia, so I guess I'm a morning and a night person.  As to being outgoing, I don't think I am.  But I married a very outgoing man, so we're good in any social situation.
What are your favorite movies?
I love action movies.  Some of my favorites are RED, Terminator, Total Recall.  And I love the Harry Potter movies.  I can always be counted on to watch one of those anytime.
What does your significant other and family think of your writing career?
My husband and family are very supportive of my career.  They are so proud of me.
Does your significant other read your stuff?  Yes, he reads and proofs every book.
Do you use a pen name? If so, how did you come up with it?
I just started using a different name for my scifi romance, CA Woolf.  I want to separate my western and scifi personas and scifi seems to sell better for those authors who use initials.
Do you listen to music while writing? If so, what?
I love listening to the Last of the Mohicans soundtrack when I'm writing historicals.
I listen to that sometimes too! It's great for historicals.
Blurb for FIERY BRIDE: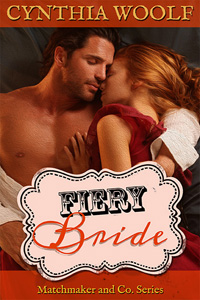 After a disastrous marriage, Matchmaker Maggie vowed never to marry again.  She will never give another man the power of life and death over her body and soul. Unfortunately, that doesn't keep her lonely heart from fantasizing about her newest client, Caleb Black. She made the mistake of starting a flirtatious correspondence with the clever devil, believing they would never meet. But when his new bride abandons her mid-way to Colorado to elope with another man, Maggie is forced to face the devastatingly handsome Caleb and explain.  Now she'll have to stay long enough to make things right and find him a new wife.  But Maggie better hang on to her vow with both hands, because Caleb has other plans for the fiery matchmaker…and a very seductive kiss.
Cynthia has lots of other titles to check out!
TITLES AVAILABLE
CENTAURI DAWN
CENTAURI TWILIGHT
CENTAURI MIDNIGHT
TAME A WILD HEART
TAME A WILD WIND
TAME A WILD BRIDE
THE SWORDS OF GREGARA – JENALA
THE SWORDS OF GREGARA – RIZA
THE SWORDS OF GREGARA – HONORA
CAPITAL BRIDE
HEIRESS BRIDE
WEBSITE – www.cynthiawoolf.com
FACEBOOK – www.facebook.com/CynthiaWoolf
Twitter – @CynthiaWoolf
Goodreads – http://www.goodreads.com/author/show/5148049.Cynthia_Woolf