It's wonderful having friend and fellow Paranormal Romance Guild author, Sharon Buchbinder, on my blog today. I read Obsession, and if you haven't read it, pick it up! Sharon did a wonderful job with her characters. I especially liked how she wrote about the cult leaders and their mentality. The setting is exciting and interaction with the local culture and how the indigenous population figured into Angie's quest to find her son. I really liked Angie as a heroine. She endured a lot of trauma at the hands of her parents, yet managed to survive it and become stronger. I enjoyed the romance between Angie and Alejandro too! He's hot 🙂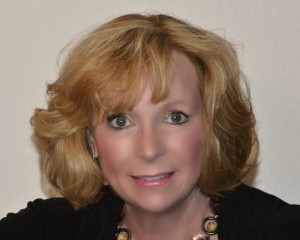 Please tell us a little bit about yourself. Hobbies/interests? When did you start writing?
Thank you very much for having me here, Mimi. I've been telling stories from childhood and began writing and submitting stories to magazines in high school. I still have the rejection slips from Redbook. I realized I needed to eat, so I set aside the idea of a writing career in favor of a steady income. After working in health care delivery for years, I became an association executive, a health care researcher, and an academic in higher education. I had it all–a terrific, supportive husband, an amazing son and a wonderful job. But that itch to write (some call it an obsession) kept beckoning me to "come on back" to writing fiction. My mid-life crisis consisted of attending a writing retreat in upstate New York. That weekend reinvigorated my muse and I've been writing, and working full time ever since. Thanks to innumerable online classes, weekend seminars, boot camps, workshops, the kindness of family, friends, critique partners, and beta readers, I am now published in mystery, horror, and science fiction, as well as contemporary, erotic, paranormal and romantic suspense. When not writing, I can be found trying to make students, colleagues, and babies laugh, teaching, herding cats, waiting on a large gray dog, fishing, or enjoying a good meal and laughs with friends or family.
I need a weekend to invigorate my muse! You have a new release, Obsession, please tell us about it.
Here's the blurb: A year after a barbaric childbirth, complete with a near-death experience and an encounter with her guardian angel, Angie Edmonds is just happy she and her son, Jake, are alive. She's finally in a good place: clean, sober, and employed as a defense attorney. But at the end of a long work day, she finds herself in a parent's worst nightmare: Jake has been kidnapped and taken across the Mexican border by a cult leader who believes the child is the "Chosen One."
Stymied by the US and Mexican legal systems, Angie is forced to ask the head of a Mexican crime syndicate for help. Much to her chagrin, she must work with Alejandro Torres, a dangerously attractive criminal and the drug lord's right-hand man. Little does she know Alejandro is an undercover federal agent, equally terrified of blowing his cover—and falling in love with her.
When I began researching Chihuahua, Mexico for a setting for Obsession, my primary intent was to find a location to build my villain's refuge.  Lucky for me, the rugged terrain of the Sierra Madre, and specifically,  Copper Canyon, were perfect for a hidden compound for a crazed cult leader who kidnaps his grandson because he believes the child is the Chosen One. This part of the world is remote, beautiful, and sparsely populated. The cult leader believes he has it all: isolation, control of a thousand loyal-to-the-death followers, paid off politicians, and the Chosen One. With more research, I found the setting was perfect to demonstrate the heroine's resolve to rescue her son, the hero's strength and abilities under harsh conditions, and to provide a realistic backdrop for supernatural events core to the story. In addition, I found allies for the heroine and hero in the form of the hidden indigenous people of Mexico, the Tarahumarans, also known as the Rarámuri. The research on the setting was pay dirt for me in this story in many ways!
Your research definitely paid off. You brought the setting and people to life! You write romantic suspense and paranormal. How do you get the ideas for your stories? Do you find similarities in writing the two genres?
Authors are told to write what they know and what they like to read. I grew up wanting to be Nancy Drew, and then moved on to Agatha Christie, so my love of mystery and suspense runs deep. I also grew up having a lot of paranormal experiences and I had a near death experience (NDE) at age 15. The book begins with the heroine having an NDE during childbirth.
The story lines in  Obsession are ripped from today's news. Human trafficking is in our backyard. Drug cartels are running Mexico and gangs in the US. Cult leaders are still leading believers to their death. Child exploitation and abuse continues to be rampant, witness the news in Cleveland with the girls kidnapped and held captive for a decade. These are transnational, transcultural issues and they are not going away soon.
My first job as an author is to entertain my reader and keep the reader turning the page, long after she said she going to sleep. In romance, that means I promise the reader a happily-ever-after for my characters. In romantic suspense, I want the reader to solve the mystery along with the heroine. In paranormal romance, we are always examining the mysteries of life and what is not "normal." Death is the ultimate mystery, isn't it? I find it natural to combine the two.
 Obsession is a tale of good versus evil, writ large, complete with the appearance of angels. No spoilers here, however, readers tell me they are cheering at the end of the book.
What has been one of your biggest challenges so far in your writing career?
Saying "No" and sticking to it. As a woman, I've been programmed to be the caregiver/people pleaser/do-it-all person. My ideas of what I needed to do to prove that I was "worthy" stem from my childhood and an abusive mother. I've had to learn to say no to people, places, and situations that are not conducive to my physical and mental health. I also needed to do it to free myself to pursue my passion of writing. At first, it was scary. What if people didn't like me anymore? Well, those were the people who really didn't care about me. They cared about themselves and what I could do for them, not what we could do for each other. There was no real reciprocity in those relationships. That was a freeing realization.
What has been one of your favorite characters to write?
I love writing villains. They are essential to a good romantic suspense and need to be 3-D, not moustache twirling cartoons. I like climbing into their twisted brains and creating believable back stories for their behavior. In  Obsession, I enjoyed writing the villains so much, my editor, Amanda Barrett, was like, "Hey, girl, these two are on the stage too long. Whose story is it, anyway?" I color coded the book for each character. She was right. They did hog the spotlight. I had to cut them down. They are still big and bad, just not taking over the story any longer.
Are you an outgoing person? Are you a morning or night person?

On a Myers-Briggs, I am at the extreme right lower hand corner, an extroverted, decision-making person. I do need ME time to focus on writing and live in my other worlds, but I love my day job as a professor and coordinator for a master's degree program. I have the best of all worlds. And, I'm much sharper in the morning than in the evening!
What book(s) are you reading right now?
Henry A. Crumpton's The Art of Intelligence: Lessons from a Life in the CIA's Clandestine Service. (BTW, I just know he and I could be good friends. He loves duct tape as much as I do.)
What does your significant other and family think of your writing career?
My family is incredibly supportive. They all go out of their way to help me with time management, finding sources of inspiration (like Ethiopian opals–did you even know they existed??), reading and promoting my work.
Does your significant other read your stuff?
My husband is my alpha reader. He reads every word of my work, many times over. He gets every draft of my WIPs. He gives me great feedback and tells me when something doesn't make sense or is confusing. As a vascular surgeon, he also makes a terrific medical consultant.
If you had a ticket to fly anywhere in the world to do research on your current book or upcoming book, where would you go?
I would love to go to Ethiopia, home of Makeda, the Queen of Sheba. Many stories have been written about the Queen of Sheba and King Solomon, from four major religions to thousands of novels and movies. My work-in-progress, Kiss of the Virgin Queen, takes place in the spaces between history, religion, and the paranormal.  Kiss of the Virgin Queen explores that space and the effects of the epic romance between King Solomon and Queen Makeda that continue to ripple down the centuries to their descendant, Homeland Security Special Agent Eliana Solomon, aka the Jinni Hunter.
What books/authors have inspired your writing?
I love Katherine Neville's The Eight. The story takes place during the French Revolution and in contemporary times and the chapters alternate between them. The McGuffin that ties the story together is a supernatural chess board once owned by Charlemagne, and pursued by good and bad people. I've read the book at least 8 times and I've met Katherine Neville. She is a lovely, gracious woman. Especially since I was a babbling fan girl when I met her! I liked the story structure so much, I am emulating it for Kiss of the Virgin Queen, which takes place in Biblical and contemporary times, with alternating chapters.
Thanks for stopping by Sharon! I enjoyed reading your responses.
~~~~~~~~~~~~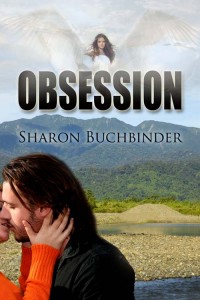 Obsession Excerpt:
"Who are you? Who is that giant? What did you say to him?"
The pony-tailed man flashed a grin, the smile reaching his sky-blue colored eyes, giving him an appealing boyish look. "The big guy's name is Tio. I told Tio to truss Raul up like the pig he is and to bring him to Isabel Ramirez. She'll know exactly what to do with him."
"Who are you?"
The movie-star-handsome man stopped, bent down until he was eye-to-eye with Angie.
"I found your passport tossed onto Raul's desk, Angela Edmonds from the U.S. of A. I like that name. You look like an angel."
She shook her head and the street twirled. "I'm no angel." She steadied herself on his well muscled, naked arm. Rather than creeping her out, the skin on skin contact with her rescuer reassured her that he was a real human and not an angel conjured up in fevered religious delusion and desperation. "You sound like an American. You haven't answered my question. What's your name?"
"Torres." Still holding her ID, he strode to the driver's side of the car, hopped in and flashed a dazzling grin. "You could call me your hero because I'm taking you to see the woman who can help you find your son. My name is Alejandro Espinosa Santoyo Torres. But most people just call me Alejandro."
~~~~~~~~~~~
Where Sharon Buchbinder and Obsession can be found on the Internet
Kindle Buy Link for Obsession http://www.amazon.com/dp/B00CGOGT12
The Wild Rose Press Buy Link for Print Version
Book Trailer for Obsession http://youtu.be/f1kujUWoGbk
Facebook https://www.facebook.com/sharon.buchbinder.romanceauthor
Facebook page for Obsession https://www.facebook.com/pages/Obsession/174546772700131
Website/Blog http://sharonbuchbinder.com/blog/
Amazon http://www.amazon.com/-/e/B001IODIE2
Goodreads http://www.goodreads.com/author/show/4417344.Sharon_Buchbinder
Twitter @sbuchbinder https://twitter.com/sbuchbinder