It's finally here!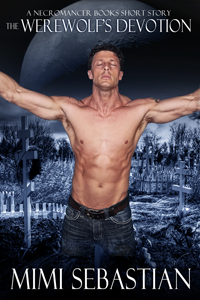 My short story from the world of the Necromancer Books. A small tale, but Brandon holds a special place in my heart 🙂 as does the lovely cover done by Kim Killion.
I'm only offering The Werewolf's Devotion booklet as a giveaway via various contests, blog spots, etc. So as part of the release, if you comment on my blog or send me an e-mail at mimi@mimisebastian.com and put Werewolf Devotion in the subject line, today and tomorrow, I'll pick one person to receive the booklet. And, if you hop on over to Camelia Miron Skiba's blog today, check out her review, and leave a comment, and/or hop over to TiffyFit's Reading Corner on Facebookfor additional opportunities to win the booklet 🙂
I'll announce the winners Friday. If you leave a comment instead of e-mailing me, please leave your e-mail in your comment and I'll contact the winner with specifics. Thanks for stopping by!! And thanks Camelia and Tiffany for participating!
Back cover copy:
I wheeled around. I hadn't noticed anyone behind me.
Brandon's quirked eyebrow reached the bangs of his wavy brown hair. His thin frame, straddling a wood cathedral chair, belied the power visible underneath his worn jeans and . . . surprise fluttered through me at the sight of his priest habit. A werewolf priest?
He stood and walked over, taking my hand in a firm shake. He smiled. "I'm used to that look."
I'm not even going to try to understand how a wolf can reside within a priest. As if reading my thoughts, he said, "Even the beasts need to confess."
-Excerpt from The Necromancer's Seduction
Before the werewolf priest, Brandon Ross, ever met the necromancer, Ruby Montagne, he'd adopted a quiet life in the Northeastern Brazilian countryside. There he dedicated himself to the parish and immersion in the local culture, even if it brought temptation in the beautiful town doctor, Solange Neves.
Now discover the story of how Brandon became a werewolf and the troubled past he seeks to escape. As he struggles to make sense of the new, darker power that has taken control of him—of the monster he has become—will Solange be his salvation or his ruin?