I just love V.S. Nelson's Sekhmet's Guardians series. Hot immortal men. Beautiful, courageous women with unique powers. Epic struggle between the Guardians and Set's Legions and now Book Three is out!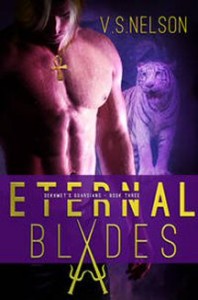 Book Blurb:
Tshering Snow never meant to fall hopelessly in love with her savior, the Ancient, known as Lance, but she did. He seems to care deeply for her, spending every available hour with her, but will he be able to give up his past and settle down with one woman?  After all, he has the reputation of a playboy.
Lance hates the personification he has created around himself. Afraid the others might not understand why; he has held back the truth from Gabriel and the other Guardians, he has waited for the right woman, the one Sekhmet prophesized so long ago. And now he has found her. When he is accused of fathering a child by both Gabriel and Tshering, how can he make them believe the child is not his, even if the boy is a spitting imagine of him?
After the women are attacked by Set's Legions while relaxing on Jennifer's new yacht, they come to the unanimous decision; they will train and join the Guardian forces. But that's not as easy as it was meant to be. Old fashioned and hard headed, Gabriel is determined he will not having women fighting in their war.
When Tshering, Jennifer and Jessica are taken hostage by Set's Legions all hell breaks loose on the Guardian's compound. Lost without their mates, brother fights brother while they try save their women and put an end to the Legion's terror. Will Sekhmet, the goddess they serve, step in and reveal the truth or will she leave them to find their own solutions to a never ending war as she has in the past?
Eternal Blades Snippet:
Lance stopped just before they made their way to main floor of the estate. With both of his hands on her waist, he turned her around to face him.
"Are you sure you're okay?"
There were still lines of worry on his face. When he first arrived back at the dock he ran to her, leaving someone else to care for his boat while he quickly checked her over for injuries. She assured him she was fine. His hands traveled over her entire body. In fact, she was more than fine. Seeing the love on his face, she would gladly endure it all over again. Her heart was pumping adrenaline faster than it ever had and it wasn't just from the fight or the excitement of what transpired–she was once again reassured he cared deeply for her.
"Lance, I'm okay… really. I'm just worried about Marie. I didn't mean to keep her underwater so long… but I didn't have a choice… I was afraid if I returned to the surface too soon…"
"Honey, you did the right thing. You heard Michael, Marie is going to be fine. He only called the OB to be on the safe side."
"I hope so…"
He tilted his head, placing his lips on hers, bringing her closer and into the comfort of his warm embrace. When they broke apart, she noticed his eyes were clouded with moisture.
He stroked her cheek with his thumb. "God, I thought I lost you… I've never been so scared in my life."
She was amazed… no, shocked. Lance who was always so composed was rattled while she seemed to be holding it together.
"Lance, I'm fine, really… Come on, I think we need to go in the dining room. Gabriel is still waiting to hear what happened."
"It won't hurt my brother to wait a few more minutes… I just need to hold you for a while… Please?"
He wrapped his arms around her, pulling her closer to him.
"You're sure your okay?" He asked again.
She nodded her head which was resting on his strong shoulder.
Seconds passed before he pulled back, smiled at her then took hold of her hand. "Come on, let's go join the others."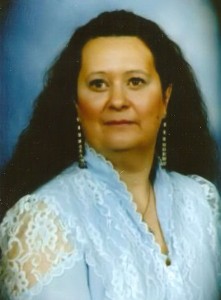 With a love for history, Native American author V.S. Nelson, instructed elementary, high school and college in the U.S. and abroad before launching her second writing career. V has been a story-teller all her life, always creating stories about people discovering the courage to make a difference. This drove her into writing her paranormal series centering on strong relationships and led her to coin the term: Ancient Legends, New Worlds.
She is well known for her "time management and sprint style writing," producing well over five thousand words daily – consecutively.
V is available for speaking engagements, appearances and is more than willing to share her methodology with others in a variety of workshops.
A member of three RWA chapters she sits on several committees and judges writing contests across the states.
In Jan, 2013, Eternal Lovers, the first book in her eleven book paranormal series, Sekhmet's Guardians launched with a fury. Being a series reader herself, she has held true to her promise by releasing no less than two books in the series per year in addition to her other work.
Teen Blurb states, "V.S. Nelson has truly created a unique storyline by combining Native American and Egyptian Mythology; an unlikely duo! The descriptions and the attention to detail will marvel the reader and make them feel like they are sitting beside the characters, feeling their happiness, sharing their sorrow, and meeting their destiny."
Check out the first two books in the series: Eternal Lovers and Eternal Nights.
Author website:               http://www.authorvsnelson.com
Author blog:                    http://www.authorvsnelson.com/blog/
Facebook: (author)         https://www.facebook.com/authorvsnelson
Facebook: (series)         https://www.facebook.com/SekhmetsGuardians
Twitter:                           https://twitter.com/AuthorVSNelson
Authorsdb:                     http://tinyurl.com/c52uwt9
Goodreads                    http://tinyurl.com/dxgo35