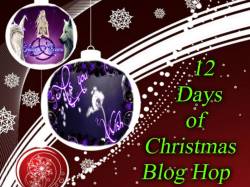 Welcome to Day Six!!
December 1 through December 12
Grand Prize: $250 – $500 Amazon Gift Card
First Prize: One (1) eBook from Every Participating Author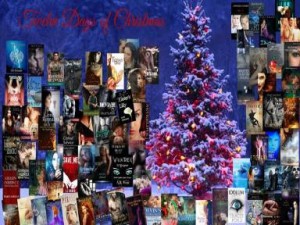 Click on Rafflecopter Giveaway to enter!
Thanks to the hosts: As You Wish Reviews & Confessions of the Paranormal
and sponsors: As You Wish Tours & Book Dragon Designs 
As part of the tour, participants are sharing favorite recipes. We love to make the following Katherine Hepburn brownies. They are truly moist and delicious. The recipe originally appeared in a magazine article about Katherine Hepburn.
Ingredients:
1 stick (8 tablespoons) butter
2 squares unsweetened chocolate
1 cup sugar
2 eggs
1/2 teaspoon vanilla
1/4 cup all-purpose flour
1/4 teaspoon salt
1 cup chopped walnuts (optional)
Preparation:
1. Melt together 1 stick butter and 2 squares unsweetened chocolate and take the saucepan off the heat. Stir in 1 cup sugar, add 2 eggs and 1/2 teaspoon vanilla, and beat the mixture well. Stir in 1/4 cup all-purpose flour and 1/4 teaspoon salt. (In the original recipe, 1 cup chopped walnuts is added here as well.) Bake the brownies in a buttered and floured 8-inch-square pan at 325°F for about 40 minutes. You can cut these brownies into squares, once they have cooled, and eat them out of the pan, but it is so much nicer to pile them on a fancy plate, from which people are going to eat them with their hands anyway. If you want to smarten up your act you can put a square of brownie on a plate with a little blob of créme fraîche and a scattering of shaved chocolate.
Spotlight: The Necromancer's Seduction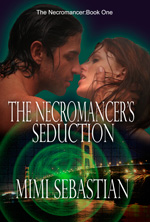 My debut release, and first book in the Necromancer Books, will be offered in ebook format as part of the blog hop. Click here on the As You Wish Reviews link for the full list of ebooks and tour stops!