It's great to have Jocelyn Dex back. We share a love for the awesomeness that are demons. And Jocelyn is celebrating the release of her newest book in the Sempire Seductions Series, Fin's Fantasy. Before Fin's Fantasy, Jocelyn released Valia's Villain. I totally dig the angle with her Sempire Seductions Series, generally female demons that need to consume semen to survive. Makes for some interesting conflict and sexy fun. (Jocelyn stopped by a while back and we had a fun discussion on demons. Check it out by clicking here.) Be sure to scroll down and check out the Rafflecopter link for her giveaway to celebrate the release of Fin's Fantasy.
To start off, a brief interview with Jocelyn!
Jocelyn: Thanks for having me here to talk about my Sempire Seductions series and to celebrate the release of the third book, Fin's Fantasy!
Me: I read Araya's Addiction and loved the sexiness, Araya's conflict with her human and demon sides, and her love interest Kean. You mentioned that Valia's Villain is different in tone than Araya's Addiction. How so? (It sounds like lots of fun…especially the handcuffs part…ahem 🙂 What about Fin's Fantasy compared to the other two? 
Thank you!
Araya and Valia are very different heroines. Whereas Araya is reluctant to give in to her demon nature–is dead set against becoming a slave to her sexual cravings, Valia revels in hers. Valia sees what she wants and goes after it with no shame, no hesitation. Valia's Villain is a little sexier and there's more action in it too. Also Valia is nutty (she would say she's totally awesome) which I think makes the story really fun, although still super sexy and dark in some scenes.
Fin's Fantasy is kind of a mixture of Araya's Addiction and Valia's Villain. Fin is a nice guy-er-demon. His heroine, Navine, is kind of a bitch. Ha. But there are reasons for it and even though she gives Fin a super hard time, she makes up for it before the end.
What type of scenes do you enjoy writing the most?
This probably depends on what type of mood I'm in at the time. Sometimes I love writing sex scenes, sometimes I hate it. What I've noticed is that I really enjoy writing dialogue–especially during times of tension and during the "I must have you" scenes. Oh and there's a drunken scene in Fin's Fantasy that I loved writing the dialogue for. It still cracks me up when I go back and read it and I hope readers will get a kick out of it too.
Are you an outgoing person? Are you a morning or night person?
I definitely wouldn't call myself outgoing but sometimes I can fake it. If there are cocktails involved, I can almost certainly fake it. (。◕‿◕。)
Soooo not a morning person but I wish I was. I think it would be great to wake up in the morning and be all "Woo hoo! Morning is here! Let's start doing stuff!" But it just isn't to be for me. Even though I'm out of bed and moving around in the morning, my brain doesn't truly wake up until the afternoon. Sigh.
I get it totally. I've become more of a morning person since I had my son, who insists everyone wake up to embrace the world with the same amount of enthusiasm as him (I grrr with a smile).
What is next? Any new titles we should be looking for?
Well, I plan to write one more story in the Sempire Seductions series although I haven't started on it yet. The ideas for the first three books came to me fairly easily but the fourth is not cooperating yet.
I have one story out on submission right now and I'm not going to jinx it by going into detail, but fingers crossed! Ohhhh, GOOD LUCK!
Thanks so much for having me here Mimi and thanks to everyone else for stopping by!
As always, it's lots of fun having you.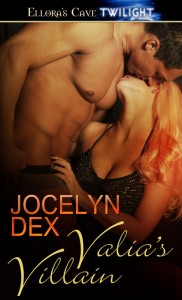 Valia's Villain
Sempire Seductions, Book 2
Blurb
When Valia approaches the Ferox demon, hoping for scorching sex and a feed, she doesn't expect to be handcuffed, transported to the demon realm, accused of dirty deeds she has no memory of committing and held captive for three days.  Even though she believes her captor to be crazy, she feels a connection to him she's felt with no one else.
When Rydin senses the Sempire who locked him up, fed on him and used him as a sex slave many years ago, he knows his wait for revenge is finally over. Burning with the need to punish her, he imprisons her in the demon realm, where she is at his mercy, but as much as he tries to ignore it, a connection sparks between them every time they touch.
Fin's Fantasy
Sempire Seductions, Book 3
Blurb
Navine is suffering Incubus addiction–a death sentence for any Sempire. When the search for a cure turns up only one rumor, Navine is horrified to learn the mutant Fin might be her only chance to live. Fearing the taint of the mutant more than fearing death, she continues to push him away as she tries to deny how his touch inflames her desire.
Fin was captivated by Navine the first moment their gazes locked but when she realized what he was–a male Sempire, a mutant, an abomination to the species–she'd rejected him. Burning with the need to touch her, taste her, he'll do almost anything to save her even though she belittles him at every turn.
With time running out, passion must overcome prejudice to save Navine's life and to grant Fin's fantasy.
Author Bio and Links
Jocelyn was born in Iowa and currently resides in hot-as-hell Texas. She shares her home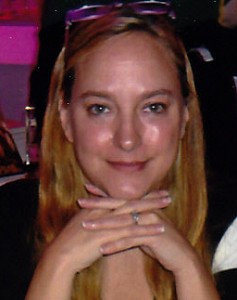 with her very own 6'4″ alpha male and varying numbers of spoiled cats and dogs. Teaching one of her dogs to file his nails is one of her all-time favorite accomplishments.
She thinks dragonflies are awesome, spiders are creepy and it's rumored that she sleeps with a machete by her bed in case zombies attack in the middle of the night.
Jocelyn loves to paint, loves to read, and loves to write sizzling erotic romance about yummy demons that would make your momma blush.
Here's where you can find Jocelyn on the web
Website * Facebook * Twitter * Blog  * Goodreads
Here's where you can buy Fin's Fantasy
Ellora's Cave  * Amazon * Barnes &  Noble
Giveaway (US & International)
2 winners, each winner will have a choice between an ebook copy of Araya's Addiction or an ebook copy of Valia's Villain
Link to Rafflecopter on Jocelyn Dex Blog
http://jocelyndex.blogspot.com/2014/01/celebrate-release-of-fins-fantasy-with.html