It's all about the chicken…or the egg? Who knows? I mentioned in the first Front Yard post my reasons for calling this the front yard, because I often have great conversations with my neighbors in our front yard, often after corralling their chicken. So in honor of said chicken, I developed the following Front Yard graphic for use with the blog.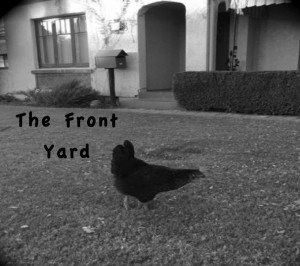 Lots of fun.
So I had my first telephone meeting with the new Editorial Director of ImaJinn, my new editor, Brenda Chin. It was very cool speaking to someone with her background and experience. I'm still giddy. I'm excited to work with her and with Belle Books. And a little scared 🙂 We'll be working hard on the next two books, re-releasing The Necromancer's Seduction with the release of The Necromancer's Betrayal, which should come out in May of this year, followed by Book Three, The Necromancer's Redemption, in September!!! That's exciting. Ok. Deep breaths 🙂 Brenda has some very exciting plans for ImaJinn and I'm thrilled to be a part of it!
Devil's Island, my self-publishing foray into pirate historical romance is releasing Feb. 3. I'm launching the book with a blog tour via Tasty Books Tours!! Also, click here to enter my Goodreads Giveaway!
So now on to the random stuff.
So finale of American Horror Story Coven was satisfying if not sort of anti-climactic. I wish the entire season had been more focused like the last two episodes. I mean, what was the point of Patty Lupone's character and her son? Why did Nan really have to die? I'm not buying she had to die in place of the baby because the baby ended up with the ghost butler. And what is the fate of the baby, anyway?? It scares me. No author could get away with the writing on this show. Okay, enough of the rant.
I'm glad Cordelia became the supreme, but what was half the season about anyway? (Oh, I guess I'm ranting again.) The best part of this show is the superb acting. Jessica Lange, Angela Bassett, and Francis Conroy as Myrtle…oh Myrtle is my hero. Some of her best lines:
Nan: How did your hair grow back so quick?
Myrtle: Oh, little bird, I've been buying in bulk from North Korea for years!
Myrtle: Mothballs and history. It's a cocktail I swoon for.
Myrtle: Can you imagine those poor Salem witches, traveling all the way down here in covered wagons without a proper charcuterie platter or a bidet? Absolutely savage!
Myrtle to Zoe: It's just like Halston when he sold his brand to JCPenney. You've forsaken your destiny.
Next season is supposed to be set in the 1950s around the time of the McCarthy era, nuclear age, and the Rosenberg espionage stuff. A departure from the previous seasons and intriguing.
Bitten! Wow. I'd heard they were making a tv show of the Kelley Armstrong series and was surprised to one day come across it. Three episodes in and I'm liking it overall. I don't like some of the casting, in particular Jeremy. Clay is growing on me. It doesn't hurt he has such lovely arms and pecs 🙂 I'm warming to Elena. It's been a while since I read the book, but I don't remember feeling so annoyed with Elena and her bitchiness to Clay, and they spend waaay too much time on Phillip and her Toronto life. I don't care about Phillip and his conversations with his mom, or double dinner dates. Other than that, am excited for it. I really hope they bring in some of the other Women of the Otherworld, like Jamie!!! (the necromancer, of course) Next season?
Music forms an important part of my psyche. In college, my friends and I formed a short-lived punk band. We called ourselves Nutty Buddy…LOL. I still have some old Nutty Buddy recordings. Maybe one day after copious amounts of wine, I'll share those recordings. But I write with music and certain songs shape my scenes. So I thought to share some songs I come across as part of the Front Yard. This song comes from Young Galaxy, which was featured in the last Bitten episode ( not this song in particular, but the band). Their music is entrancing. Enjoy!