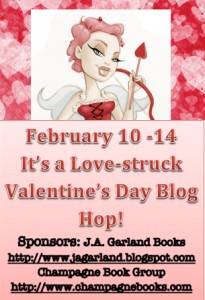 I'm coming clean in admitting Valentine's Day was never my favorite, but, now that I have a kid, I enjoy buying lots of chocolate :), and of course, writing romance. So in celebration of chocolate and romance, here's the Love Struck Valentine Day blog hop.
Grand Prize is a Kindle Paperwhite loaded up with tons of books being provided by the authors listed below including my urban fantasy book The Necromancer's Seduction.
But that's not all. For stopping by my blog today and leaving a comment, I'll offer one lucky winner a copy of my werewolf short story booklet The Werewolf's Devotion and this  lovely zombie Valentines Day card. Winners will be announced on the 15th along with the grand prize winner!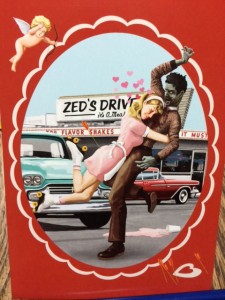 Please visit J.A. Garland's blog for pictures of the books being offered and to enter the giveaway and a list of participating authors!! J.A. Garland books.
Here are the list of books offered with the Grand Prize!
J.A. Garland Books: INSTINCT, Dysus Dreamer
Celia Breslin: Haven
Pippa Jay: Gethyon
Mimi Sebastian: The Necromancer's Seduction
Cecilia Dominic: The Mountain's Shadow
Jude Johnson: Save the Last Dance Trilogy
Isabella Norse: Assassin's Heart
Dani Harper: First Bite, Storm Warrior
Rita Bay: The Aegis, Into the Lyons Den
Allison Knight: Lynbrook's Lady, Betrayed Bride
Joyce Proell: A Deadly Truth
Holly Hunt: The Devil's Wife, Scale & Feather
Ceci Giltenan: Highland Solution
Ute Carbone: To the Wind, Sweet Lenora
Cassiel Knight: Blood on the Moon, Key of Solomon
Audra Middleton: Hitchhiker
Morgan Wyatt: Dangerous Curves, Escaping West 
Angela Kay Austin: Rumer
Liz Crowe: Floor Time, Sweat Equity, Closing Costs
January Bain: Forever Man, Forever Woman, Forever Clan
Susan Frances: The King Maker
Linda Rettstatt: In The Spirit, A Falling Star
Graeme Brown: Donating e-book only: The Pact
Dani Collins: The Healer
Christina Cole: Donating e-book only: Not the Marrying Kind
Kelly Martin: The Afterlife of Lizzie Monroe
Pauline Creeden: Sanctuary & First Impression