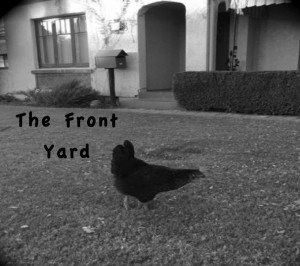 More front yard high jinks by the chickens, yes, now the other chicken has decided to roam. I guess I need to take a new picture.
I'd like to take a moment to remember Harold Ramis. One of the Second City alums, he was involved in some of the greatest comedies ever, either as a writer, actor, or director: Stripes, Animal House, Ghostbusters, Caddyshack, Groundhog Day, Meatballs. Your contributions are noted sir and you will be missed.
Speaking of funny movies, I highly recommend you see the Lego Movie. Very clever, really poignant final act, and cool animation.  And I love the theme song, Everything is Awesome, by Mark Mothersbaugh of Devo fame, sung by Tegan and Sarah. For a movie about a toy, it did a great job poking fun at itself while highlighting what kids like about Lego, the creativity. My favorite Lego character was Benny the retro space guy.
Turned in first round of revisions of Necromancer's Betrayal, so now to finish Necromancer's Redemption so I can start writing my second pirate book! The Tucson Book Festival is coming up March 14 and 15 and I'm super psyched for the event and to be attending with a great group of authors.
Stay tuned in March when I announce a fun contest my writer's group Desert Muses is going to run. A knock off on March Madness, we call it March Man-ness!! We'll run the contest via our Desert Muses blog.
On to the the random stuff. Been faithfully watching Black Sails. While I can appreciate the slow build up, establishing characters, I was still waiting for those grappling hooks to catch me or anything for that matter. I liked the New Providence scenes, how the port town might have looked, how the pirates lived while it was their haven, and the inner politics of pirate life, yet those moments seemed to drag a bit. Let's get to the good stuff! Finally, finally, Episode V arrived and the lines caught and hooked me. The tactical sea battle between Flint and Bryson was great. Got to see some ship maneuvering and nautical talk, and left us on a harrowing cliff hanger. Some interesting movement on New Providence. I'm starting to dislike Eleanor. She seems very self righteous and willing to betray anyone even her closest and most trusted ally. And did not appreciate how she treated Vane. A few words on Vane. I didn't think I'd like him because the real Vane was a pretty brutal pirate, but one of the last hold outs against the British. But I'm loving this Vane more and more. I'd like to see him up one on Eleanor oh and what did he sail off to do at the end!!! I'm also really liking Anne Bonny and Calico Jack. So glad to hear they've ordered a second season already because I'm in!
If you haven't heard of the upcoming new tv show called Penny Dreadful, check this out!! http://www.youtube.com/watch?v=YFXHfEqMcis. It looks so cool. I like the dark, gothic feel of the Victorian monster mix. And Eva Green is perfect casting. It premieres in May and I can't wait.
Instead of a song, I must end with another trailer, this time for the upcoming Guardians of the Galaxy movie. Looks like a fun ride. Do I dare say shaping up to be a mashup of Star Wars and Futurama??!! Marvel's very own space heroes, the Guardians are a unique set of characters, one of my favorites being Rocket Raccoon, voiced by Bradley Cooper. And I really like the casting of Chris Pratt as Peter Quill / Star-Lord. He also voiced Emmett in the Lego Movie. Here's a link to the trailer: http://www.youtube.com/watch?v=FXAB9PQE1CU