June and July are filled with some great new releases and I'm excited to be featuring some of them. I had the pleasure of getting a glimpse of Eternal Tuat, which features the story of Bagsu, one of the villains of VS Nelson's Sekhmet's Guardians series. It's a great, heart-wrenching story. Check out the link to VS's website, or click here to enter the giveaway for a free book or a $25 Amazon gift card.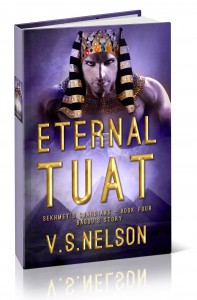 Bagsu, his name alone strikes fear in the Guardian Nation.
What can cause one twin, destined to take his father's place as a priest turn evil and lead a crusade to dominate the human race while the other fights to save mankind?
Finally, secrets are revealed when Bagsu leads us back in time to the land of New Tuat. Experience first hand what really happened to Bagsu and Gabriel long before they became immortal, when twin brothers were the best of friends.
Excerpt:
Lying beside Nefer, my body aches for her sweet embrace. I am torn between desire and blissfulness. To take her into my arms, to have her kiss upon my lips, to feel the joys of our flesh united together is tamed by the pure innocence sleeping peacefully beside me.  I know she is tired and worthy of a full uninterrupted night's sleep. I take refuge in knowing there will be many nights to come where I can indulge in my erotic fantasies, for she will be with me for all my days to come.
Like I have so many nights before, I find myself lying awake contemplating my life. I laugh quietly at the answers I have received on my reflections; they are so different than they have been in the past. No longer are my thoughts filled with grander or a future designed by others. Looking around, I see the simplicity in what I have and what makes me truly happy. The rich furnishings I have always possessed are replaced with a tattered roof and a straw bed on the floor. A drink of spring water fills the emptiness of my stomach and the woman sleeping next to me fills the void in my heart.
Quietly, I get up and step outside where I fall to my knees under the star lit sky. I look up and like a child, the tears flow down my cheeks, cleansing what is left of my emotional soul. Like a snake that is shedding its skin, I bare myself to my ancestors and thank the Gods for this great revelation; I need nothing more than I have right now. For the first time in my life, I feel complete; totally and unequivocally complete.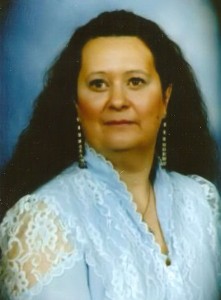 About VS:
Being a Native American woman and a Scorpio, author V.S. Nelson has always had a fondness for history, mythology, the occult, and the unexplained events which have occurred on this world we call home. It was no wonder she found herself writing a paranormal series.
Raised on authors like H.G. Wells and Jules Verne and coming from a long line of oral storytellers, Ms. Nelson work has been defined as innovative and fresh. She will take you by the hand and lead you into the depths of her imagination as if you are sitting next to her on the couch one minute and alive within her fantasy world the next.
She has always enjoyed reading stories with strong relationships and happy-ever-after-endings and it is reflected in her work. Even her commercial fiction, Sins of a Man, the Memoirs of a Mafia Hit man, is layered with romantic elements. I've heard her say she is in love with love more than once and that too is echoed in her stories.
Landing in Arizona, after an exciting teaching career, which took her to the Middle East for several years, she lives in Arizona where she spends most of her time making love to her computer while writing, editing or researching, seven to ten hours a day. The days she's not writing, you will find her with her critique partners, attending or presenting a workshop or at a RWA (Romance Writers of America) meeting. She's extremely active in three RWA chapters in addition to her other associations.
Check out the first three books in the series on VS Nelson's Amazon page.
Author website:               http://www.authorvsnelson.com
Author blog:                    http://www.authorvsnelson.com/blog/
Facebook: (author)         https://www.facebook.com/authorvsnelson
Facebook: (series)         https://www.facebook.com/SekhmetsGuardians
Twitter:                           https://twitter.com/AuthorVSNelson