Today's guest is Pamela Turner talking to us about her new release, Exterminating Angel. Check out the lovely cover below and excerpt!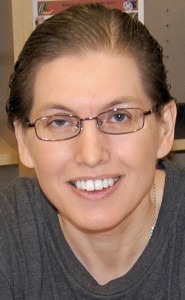 Please tell us a little bit about yourself. Hobbies/interests? When did you start writing?
Hello! My name is Pamela Turner, and I'm a NTSB addict. Oh, wait. That's not right. Let's try this again. Paranormal/Dark Fiction author, whose secret weapon is invisibility and the power to charm cats 🙂 Hobbies/Interests include aviation (I took a few flying lessons), Tarot, photography, videography, old abandoned buildings, cemeteries, and yes, the NTSB.
How did you get the story idea for your current title?
Can't say exactly what sparked the idea, but it was what would happen if an archangel unwittingly unleashed a demon upon a city? I wanted to write a character who was so devoted to duty, he didn't care how he achieved it, only to find out he'd made a horrible mistake and had to deal with the consequences.
What has been one of your favorite characters to write?
Lucifer. In Exterminating Angel, he's a mentor-type of character who cares deeply for his friends, but still manages to annoy them by working on a need-to-know basis. He's not evil and is sincerely concerned with saving the city's inhabitants. As for souls, he doesn't bother. Souls don't pay the bills. 🙂
What are your favorite movies?
 Casablanca, Santa Sangre, Dementia-13, Children of Paradise, Ashes and Diamonds, Three Colors – Red, Three Colors – Blue, Dolls… Really, almost anything by Wajda or Kieslowski.
Do you listen to music while writing? If so, what?
 To be honest, I can't write with music. Too distracting. But I do have songs that inspire my stories. These include songs by Blutengel, Within Temptation, E-Nomine, etc. – European symphonic metal, gothic, and dark wave. 
What books/authors have inspired your writing?
Stories and television shows like Alfred Hitchcock Presents, Thriller, Night Gallery, Twilight Zone, and One Step Beyond. The Alfred Hitchcock suspense anthologies played a significant role in my writing suspense. I remember two stories in particular. One about a hardened executive who's paralyzed, and his tears save his life. The other, about a young woman, traumatized by rape, who cried "That's him!" to her husband when they were searching for her assailant. I don't remember if he killed the man, but he certainly attacked him. The story was made all the more poignant when the woman then pointed to another man and cried out, "It's him!" That and stories by Ida Chittum in her collection, Tales of Terror, particularly "The Haunted Well," "The Twisting Wind," and "Vision of Roses."
What themes do you like to explore in your books?
 I like to explore the issues of good and evil and twist preconceived notions. Obsession and vengeance also seem to be common themes throughout my work.
What is next? Any new titles we should be looking for?
I've written a spin off to Exterminating Angel called Hell on Earth and another angel paranormal, The Judas Dilemma. That, plus Serpent Fire, the second book in my Angels of Death series. They're still works-in-progress.
They all sound great! Thanks for stopping by today 🙂
Making a deal with the Devil is the least of his problems.
Zaphkiel, a chain-smoking, hard-drinking archangel, never intended to unleash the sun demon upon the city. Bad enough his boss wants him dead, and this recent crime is the perfect excuse. The timing couldn't be worse. Somehow, Zaphkiel's executed lover, Caliel, is alive and reincarnated as Sean. Zaphkiel is thrilled to be reunited with Caliel again, but will his lover feel the same when he learns Zaphkiel's darkest secret?
Hired by Lucifer, Sean wants nothing more than to fit in. But how can he compete when the Devil's friends include archangels and a Tarot reader, and he was born without special abilities? Or so he believes. The Tarot hints there may be more to him than he realizes.
Recruited by the Devil to find the two pentacles sun demon Sorath plans to use to destroy the universe, Zaphkiel and Sean find themselves pawns in a game of power and control. If the archangel gives his boss the pentacles, Ophaniel will overlook his crime. But Zaphkiel knows he can't trust either Ophaniel or Sorath, and the deal he's made with the Devil could cost him not only his life, but also the lover he believed gone forever.
M/M sexual practices, occult themes, some violence, graphic descriptions.
Buy link:
http://www.kensingtonbooks.com/book.aspx/30226
Excerpt: (Please note contains language and some graphic imagery)
Zaphkiel could see why people called Eastern Cemetery haunted, given the high grass and overturned, broken tombstones. Clouds obscured the night sky, perfect cover for their midnight excursion. "Sense anything?"
"Something. But it's weak."
Zaphkiel recoiled at a bloody deer's head jammed atop an obelisk. "What the fuck?"
Raziel drew a sharp breath. "Assholes."
What sick mind would do this? Easy to say Satanists. More likely dumb-ass kids pretending to be devil worshippers.
Neither voiced the possibility Kurt might also be responsible.
Farther down the path, they reached an abandoned chapel. An iron gate barred the front door. Someone had broken two panes in the stained-glass window above the entrance.
"Do you think he's inside?" Zaphkiel asked, senses on full alert.
"No." Raziel raised his hand for silence.
A faint, squelching noise sent shivers down Zaphkiel's nape and back. It sounded like something large and wet dragging itself along the ground.
The same malignant odor from Kurt's house wafted toward them. Bile rose in Zaphkiel's mouth, and his stomach churned. He gagged and reached for his mentholated balm. Nothing. Zaphkiel cursed. What a time to leave the jar in his suit-coat pocket.
Raziel grabbed his arm and pointed.
Zaphkiel looked and wished he hadn't. Mouth smeared with blood, Kurt gnawed on a human arm. Purple-and-black patches mottling his skin, clothes in tatters, he made loud, guttural noises. Once, he looked up, strings of sinew between his teeth, but seemed unaware of their presence.
Raziel's face turned green. "Good God. Is that…?"
"Kurt? Yes." Zaphkiel grimaced. "God knows where he got the arm." He averted his face, sickened by what he'd unleashed. If only he could return to that moment before he aimed the knife. If only he had listened to Michael. That thing before them was Kurt, yet it wasn't. A sinister presence festered within the decomposing cadaver. Zaphkiel sensed its eagerness toescape, but something restrained it.
Raziel stepped back. "I don't want to know."
The sound of a car engine made them turn. A police cruiser approached, headlights sweeping graves and the brick wall.
Kurt slithered behind a white-marble monument.
"I don't think there's anything more to see here," Raziel said.
Zaphkiel agreed. They teleported seconds before the headlights swept the chapel.
Links:
Haunted Dreams, Dark Destinies 
@PamelaTurner (Twitter)
Exterminating Angel Book Trailer 
Darkling Delights (Blog)