Happy October!! It's that time of year when I can indulge my predilection for creepiness and candy, and just chalk it up to Halloween 🙂 So to feed the inner ghoul, I'll be posting Ghoulish Ten lists related to movies until Halloween. Next week I'll cover the best movie monsters.
Vampire movies!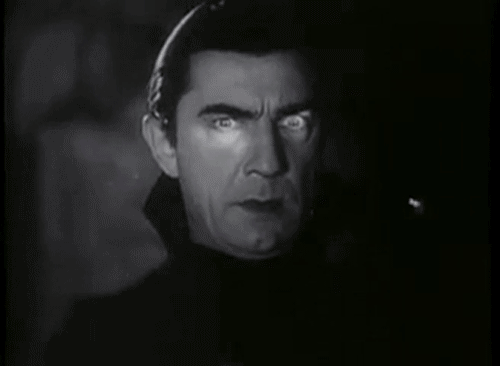 I'm really not covering the classics here (despite the great Bela Lugosi pictured to the right) because I wanted to feature some less well-known, some more well-known, amazing films with an interesting take on vampires, or films that just rocked 🙂 So I didn't include the Bela Lugosi Dracula or the Francis Ford Coppola version, Interview with a Vampire, and Nosferatu. They are classics that belong on every best list. I also didn't rank the movies so they are in no particular order. I included pictures from the movies on my Pinterest page so click on over.
Lost Boys. Youth rebellion and Jim Morrison, Keifer Sutherland and his glam-rock vampire crew, Michael Patrick, gramps, and the great inter-play between Cory Feldman and Cory Haim, some great one-liners, 80s soundtrack, awesome!
Fright Night. Not the remake. I saw the remake. It was okay. When you don't have Chris Sarandon playing Jerry Dandridge or the late, great Roddy McDowell as Peter Vincent or Evil Ed, what's the point? The scene where Peter Vincent kills Evil Ed's wolf creature was sublime. Perfect blend of horror and pathos. Possibly my favorite vampire movie.
Salem's Lot, 1979 version. Beyond being one of the most terrifying television movies made, earns a spot simply for keeping me awake for at least a week after watching the scene where newly formed vampire Danny comes knocking on Mark Petrie's window at night. Therapy. Lots.
Side notes. Tobe Hooper of Texas Chainsaw Massacre fame directed Salem's Lot. I read the Stephen King short story Jerusalem's Lot, set in the same town as Salem's Lot. Great short story! Just the line…"there are spiritually noxious places, buildings where the milk of the cosmos has become sour and rancid." Thanks Stephen! I think.
Near Dark. The dark matter Twilight? Brutal. Biker western. Teen romance. Kathryn Bigelow directed. Bill Paxton as a blood-sucking sociopathic. 'Nuff said.
Vampire's Kiss. This was one of the Raising Arizona-Moonstruck-Wild at Heart-Nicholas Cage performances as opposed to the Ghost Rider-Season of the Witch-I'll act in anything for money-Nicholas Cage. In it, Cage believes he is turning into a vampire. He even buys a pair of fake, plastic teeth and bites someone in a scene that perfectly straddles the line between horror and pathos, like Fright Night. (I find a certain level of perfection in scary movies that can strike those chords.) It's billed as a dark comedy horror and it does have some great comedic moments but once again, just tragic, especially the ending, despite the fact that Cage's character is pretty repulsive.
Let the Right One In. I heard Let Me In is really good in its own right with its own take so I'm adding it to my must see list. What stood out for me with Let the Right One In was the "realistic" take, the vampire being a young girl, and the focus on the relationship between her and her chosen male companions. She was both a ferocious vampire and lonely young girl, looking for companionship.
Cronos. Guillermo del Toro. Guillermo del Toro. The concept is unique and cool, about an alchemist who invents a scarab device that injects its victim with a solution granting eternal life and a thirst for blood. Guillermo has such a stylistic approach to his gore and monsters. He's still trying to get his adaption of At the Mountains of Madness off the ground, and I, for one, have my fingers doubly crossed.
The Addiction. I love Lili Taylor. In The Addiction, she plays a philosophy student attacked and bitten by a female vampire. The movie explores her gradual transformation into a vampire and moral degradation. It explores philosophy as espoused by Nietzche and Decartes and whether the fault lies in the vampires being themselves and true to their addiction or in the weakness of their prey.
Shadow of the Vampire. A fictionalized account of the making of the Nosferatu classic with Willem DaFoe as Nosferatu and John Malkovich as the director, F.W. Murau. The premise plays out brilliantly. F.W. Murau hired a character actor, Max Schreck, a.k.a. our fiendish Nosferatu, to play said blood sucker and, because he's so dedicated to his craft, while filming, he stays in character. The interactions between "Schreck" and the cast are sometimes funny with dark undertones. In one scene, a bat flies by and Schreck catches it and sucks its blood. The other actors are impressed by his dedication to his character. The filming harkens back to silent films. I cannot stress how amazing Willem DaFoe was as Nosferatu.
Blade. He rocks. And one of the first comic book movies released, after the atrocious Joel Shumacher Batman ones, to take comic books heroes down a darker path.
Movies I haven't seen that sound intriguing: Kiss of the Damned (looks very sexy), John Carpenter's Vampires (I was initially turned off by this movie, but am hearing good things about it and I do love John Carpenter.) 30 Days of Night. I know, what am I waiting for?
What are some of your favorites and why?
And don't forget to check out my Pinterest site for pictures of these movies and some others I didn't cover in the post!