Happy Valentine's Day! My friend, Shanyn Hoiser, and frequent guest on my blog has a new release, and I had the pleasure to critique it. Yes, I'm biased, but you're in for a treat! Want a more realistic approach to BDSM? Try out Ingenue! Scroll down for a sexy snippet!! Available on Amazon.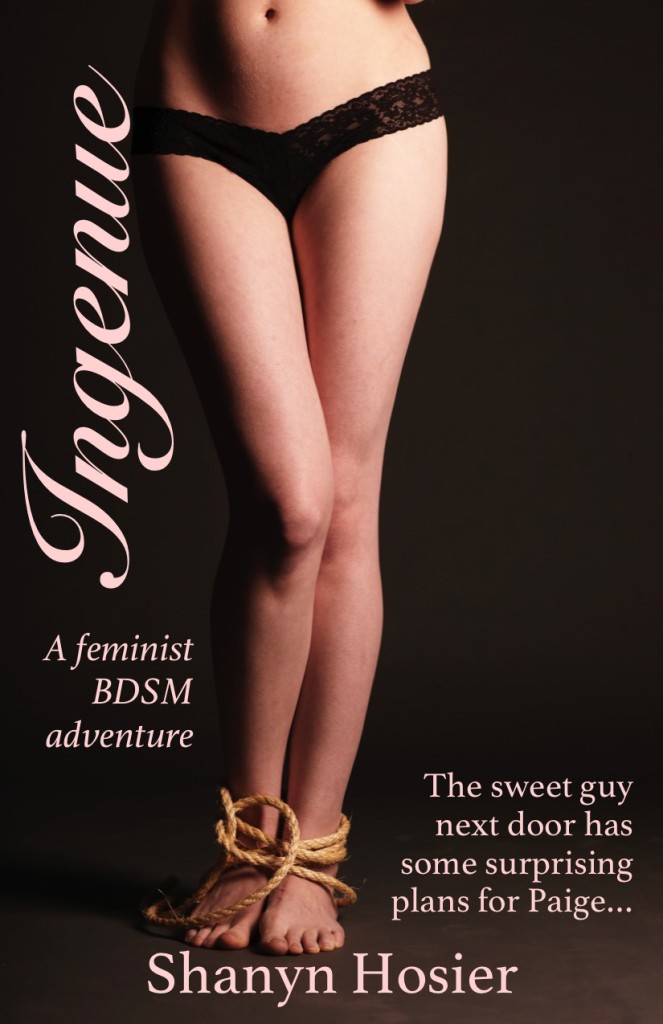 Back Cover Copy:
Jilted by her fiancé, Paige Forsythe plans to lick her wounds in seclusion, looking forward to reuniting with her favorite yet ailing aunt. The shock of her heartbreak left her disillusioned with men and restless in her career as a history professor at a second-tier private college, despite her rumored promotion to department head. Tired of teaching and soul-crushing administrative duties, she longs to lose herself in research and writing, taking refuge in the safety of the past.
But the handsome, sweet guy next door has some surprising plans for Paige. Always willing to lend a hand when it comes to Aunt Lil, Reed Camden's charming smile and eager kindness win Paige over. But when his offer of a friendly massage veers several steps beyond propriety, Paige's complicated life skews further off-kilter. "I've been a Dom for years," Reed explains, his touch igniting her desire. "I know a submissive when I see one."
Reed casts aside his "retirement" from that life to serve as her guide, and Paige explores the unfamiliar realm of BDSM, discovering a sexually adventurous side of herself she never knew existed. What begins as a summer's rebound fling quickly blossoms into something more, but Paige's trust issues and deeply ingrained self-doubt threaten to sabotage their budding romance. Reed's mysterious, dark past collides with the present, rattling her confidence further. Can Paige find the strength within to break free of her repressive life and embrace a whole new world of excitement and love?
Snippet:
I held out my hand. "Can I have my underwear back, then, if we're done?"
Still smiling, Reed shook his head.
It took a few moments to realize he wasn't just being coy. "Are you serious?"
He planted a light kiss on my lips. "That would make it too easy for you to forget who's in charge. Too easy for you to pretend this didn't happen."
I was still frozen in shock when he eased my breast back into my bra, slipped the strap onto my shoulder. By the time he held out my shirt, I'd recovered enough presence of mind to dive into it. Then he crouched, holding my shorts open for me to step into. He drew them up slowly, staring me in the eye the whole time, and I was seduced all over again.
I wanted his rule. Every bit of it.
"For every minute of the rest of today, you're going to think about what we did here." He fastened the button of my waistband, then cupped my crotch through the fabric of my shorts, and I gasped. "You're going to feel this seam brush against you—and you're going to remember."