I missed posting an Episode XII recap, but mostly our beloved cutthroats were moving chess pieces around before the fireworks began, and Episode XIII certainly delivered in more ways than one. So Flint's deal is all about honoring his love for Miranda's husband, Thomas, or dismissing his shame? It certainly brings a new and interesting element to Miranda's relationship with Flint. The writers had us believing, at first, that Miranda was concerned about the repercussions of her affair with Flint, and I'm thinking, heck, lots of upper crusty Brits had affairs, but ah…no…we's talking about the "profane" (according to Thomas's dad) affair between Flint and Thomas. Apparently homosexual affairs led to hangings and imprisonment in the nasty Bedlam, where they probably tried to freeze or lobotomize the gay-ness right out. Poor Thomas.
I wonder how our pirates and Eleanor will feel if they ever discover Flint wants to turn New Providence into some utopian British society in honor of his lover…and not for pirate principals. Anyway, aside from forbidden love, this episode was all about the threesomes, starting with the opening scene.
Long John slithers his way out of yet another flogging or keelhauling. Billy Bones, like Flint, sees through Silver's bs. The little power play between the two definitely set up some interesting dynamics for the future. Billy has come back from the dead a new man and he ain't taking shit from anyone, and Randall likes him too, by god. (Although I have some reservations about Billy's motives, but more on that later.)
Some of the exchanges between our threesome were priceless:
Silver: "I'm a hard man not to like."
Randall: "We like him."
Billy: "You are very dangerous or very stupid."
Silver: "Possibly a bit of both."
And when Silver contemplates offing Billy, Randall intervenes and warns Silver off: "We like him, too."
Randall, the master of the understatement.
Number of Flint sneers. Folks, we may have seen the birth of the Flint sneer, over Miranda's shoulder after they took Thomas away to Bedlam, which btw, was a pretty terrible place.
Flint is brilliant, delusional, or downright scaring the crap out of me. So all of this is because Flint is ashamed of his love for Thomas? Pissed he didn't do more to save Thomas? This episode was key to revealing Flint's psyche and while I'm still not convinced he isn't completely mad, we see, at least he's doing it for lurv.
Wenches behaving bad-ass-ly. This episode made me feel for Miranda and her plight. She wasn't Thomas' truest love and probably not Flint's either. And in the end, Flint tells her he was ashamed that he listened to her instead of doing more to save Thomas. Ouch! But what? Storm Bedlam? Miranda was certainly the rationale one in that threesome.
This leads us to our final threesome of the episode. In Episode XII, Anne told Jack she wanted him to make sure Max didn't get in between them, but really it's too late and, I'm not sympathizing with Anne here. She gets pissed when Jack tells her the crew voted her out of a share, but Jack is behaving perfectly rational for a pirate captain and Anne should understand this. (Also, I have a hard time swallowing how a pirate crew would split shares with a brothel Madame and former prostitute no matter how much good Intel she's bringing in.)
Pirate history check. So we got the big shocker this episode, but did pirates have sex on those long voyages? Granted Flint was not a pirate when he engaged in his extra-marital-male affair, but a technicality. Some of the 17th Century buccaneers practiced what was called, matelotage, a type of social structure where two men shared property which may have extended to sexual relations. However, there is nothing in the records that outright state pirates had sexual relations among themselves, and I imagine, if it occurred, it was along the lines of "don't ask, don't tell".
Episode MBP (most badass pirate). I'm going to give it to whomever wins the fight between Vane and Flint.
Billy Bones, Billy Bones is our true hero. So how did Billy Bones make it back to New Providence? He posed this very question to Silver, told him maybe he should be more concerned over what took him (Billy) out of the drink (after Flint most likely tossed him in). I had this very same question when he popped up on New Providence in Episode XII. Somehow Billy escaped from the shrinking leather? Me don't think so. Our Billy Bones may turn out to be a double dealing knave.
Jack Rackham quote. I quite enjoyed see the prostitute sketching what would become Calico Jack Rackham's flag, and the classic death's head, pictured below, and Rackham's subsequent line: "We all have the same swords, we all have the same guns, but great art has felled empires."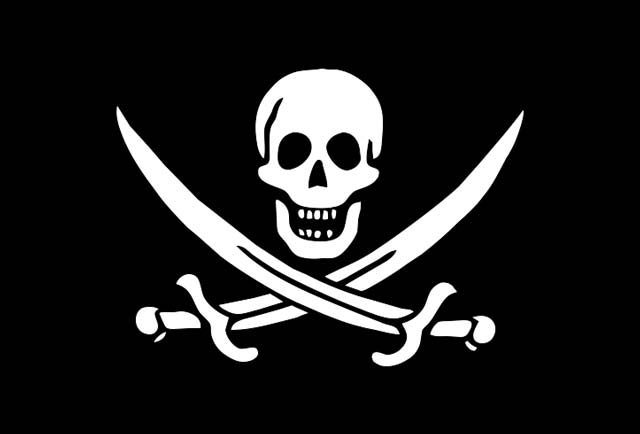 Ten blow my scuttlebutts for "profane" love, three threesomes, and great art.