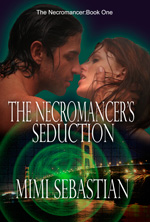 Amazon
Happy Tails and Trails Blog calls Necromancer's Seduction Awesomely Creeptastic!
Sometimes funny, sometimes creeptastic, sometimes downright scary. I will say those are exciting moments. I definitely enjoyed this one, and though I am keeping a little more tight lipped than normal, it's only because of major spoilers that would come out of them. So I recommend you check this one out! I will but waiting in line for book two to come out and play! Full review: http://magluvsya03.wordpress.com/2013/07/19/the-necromancers-seduction-blog-tour-w-giveaway/
Offbeat Vagabond gave it Five Stars!
If you are looking for a major supernatural fix with zombies, demons, revenants (zombies with their souls intact), and more wrapped in a fast and fun read, you have found the perfect book. I am so excited for the sequel. It can't get here fast enough. Highly recommended. Full review: http://offbeatvagabond.blogspot.com/2013/08/the-necromancers-seduction-book-tour.html
See below for ARC copy reviews posted by Netgalley Reviewers!
Title of review: Not your everyday Romance
Notes: Yes. I would purchase this series for the romance section of the library.
Full Text of review: This is not your typical, formulaic romance and I really enjoyed that.  First, a necromancer (someone who brings the dead to life) is not a common character, never mind heroine of a romance novel…Yet this really works.  Lots of conflict and political intrigue for the lead couple to resolve.  No easy endings or happy resolutions to be found here either.  Yet, I was left wanting more. I would definitely recommend.
Title of review: A great beginning
Full Text of review: Wow! A rapid introduction to several supernatural species living among us left me breathless. The story is rapid fire, weaving events surrounding Ruby's discovery of her heritage and powers, and her budding relationship with Ewan with sometimes dizzying speed. I found the world including the supernaturals most interesting, and suspect that spinoffs into characters and stories involving other supes may soon follow this series. I MOST eagerly anticipate the next book!
Back Cover copy for Necromancer's Seduction:
She has never feared the walking dead. It's the power required to reanimate the dead that startles her, seduces her. The power that dwells inside her…and is growing.
For Professor Ruby Montagne, being a necromancer has brought her nothing but heartache, and she walked away from that part of her life long ago. However, her quiet existence in San Francisco is shattered when she stumbles upon the body of a slain witch, and the supernatural community insists she transform him into a revenant to track the killer. But his murder was just the beginning, and Ruby soon realizes that the stakes are higher than anyone can imagine—and that revenants have nasty minds of their own.
Now demonic creatures have escaped into the human world, and zombies once again walk the streets. For humanity's sake, Ruby forms an unlikely alliance with a witch, a zombie, and Ewan March, a demon warrior who sets her senses on fire. She's always distrusted demons and Ewan is no exception, but circumstances push them closer together, and Ruby not only finds it harder to resist him, she isn't sure she even wants to. But she suspects his job of patrolling the portal separating humans and demons conceals a dark and deadly past that may consume them both.
With events spiraling out of control, Ruby unravels a plot that not only threatens the human and demon realms, but puts Ruby's very soul in jeopardy. Because when the dead walk, no one is safe. Especially Ruby.
Soundtrack:
I've linked to Youtube Videos of the songs that inspired characters and set the tone for certain scenes. Enjoy!
Burden in My Hand by Soundgarden (an Ewan song):
I Walked by Sufjan Stevens (an Adam song):
Demon Host by Timber Timbre
This Woman's Work by Kate Bush.
She's Made of Chalk by Kashmir
Tired of Being Sorry by Ringside
I Remember by Deadmau5 and Kaskade
Out of the Blue by Roxy Music
O Sailor by Fiona Apple