The Necromancer Books short story.
When I conceptualized the story that became The Necromancer's Seduction, Ruby's major love interest was a werewolf. Well, lots of things changed since that first thought invaded my mind, including switching the romantic foil from a werewolf to a demon. While the wolves, and Brandon's character, play an important—tragic—but minor role in Necromancer's Seduction, his voice resonated in my head, so strongly that he told me how he became a werewolf and I wrote his story in The Werewolf's Devotion.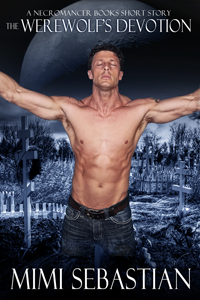 This booklet will only be offered as a giveaway during blog tours, random posts, contests, etc., so stay tuned, like my facebook page, or subscribe to my blog to get notified of opportunities.
Review for Werewolf's Devotion:
If someone said that I'd like another werewolf more than Jacob from Twilight, I would've laughed and bet a paycheck that it could never ever happen. Luckily, no one challenged me and I still have my paycheck, but not my heart because another hero came and swept me off my feet.
Who is this mystery new guy, you might ask. Let me introduce you to Brandon Ross, a secondary character in the Necromancer's Seduction by Noemi Ghirghi, writing as Mimi Sebastian. Because of his special place not only in the novel but also in Mimi's heart, she decided to give him the spotlight as the main hero in The Werewolf's Devotion.
Brandon is a man with a past he struggles to leave behind. En route to finding peace he meets Solange Neves, a doctor in a small Brazilian town. There's something about Brandon that made me fall in love with him within pages. It has nothing to do with how handsome he is, but with his heart, his emotions he tries to keep in control, his doubts and forbidden attraction. All of the above made him human, a believable, well-rounded character with qualities and flaws one could easily relate to.
Another aspect I enjoyed is Mimi's ability to play with words. Her descriptions are clear, elegant and gracious. Like a painter is comfortable with colors and brushes, Mimi paints the surroundings and the characters effortlessly and very vivid. That's a true talent and I applaud Mimi for it.
The story is short and geared toward the readers of the Necromancer's Seduction, the first book in the Necromancer Series (urban fantasy). And since this is Mimi's first release, I applaud her intricate plot development, her unique style and voice. Give her novels a try—you won't regret it. -http://authorcameliamironskiba.com/
Back cover copy:
I wheeled around. I hadn't noticed anyone behind me.
Brandon's quirked eyebrow reached the bangs of his wavy brown hair. His thin frame, straddling a wood cathedral chair, belied the power visible underneath his worn jeans and . . . surprise fluttered through me at the sight of his priest habit. A werewolf priest?
He stood and walked over, taking my hand in a firm shake. He smiled. "I'm used to that look."
I'm not even going to try to understand how a wolf can reside within a priest. As if reading my thoughts, he said, "Even the beasts need to confess."
-Excerpt from The Necromancer's Seduction
Before the werewolf priest, Brandon Ross, ever met the necromancer, Ruby Montagne, he'd adopted a quiet life in the Northeastern Brazilian countryside. There he dedicated himself to the parish and immersion in the local culture, even if it brought temptation in the beautiful town doctor, Solange Neves.
Now discover the story of how Brandon became a werewolf and the troubled past he seeks to escape. As he struggles to make sense of the new, darker power that has taken control of him—of the monster he has become—will Solange be his salvation or his ruin?