Welcome to my website. Great to have you here!
I'm the author of necromancer urban fantasy featuring zombies and demon love, and swashbuckling pirate historical romance.
Please visit my Necromancer Books page to find out a little more about Ruby, who unleashes her power and reignites a legacy that threatens the entire supernatural community as well as her own soul.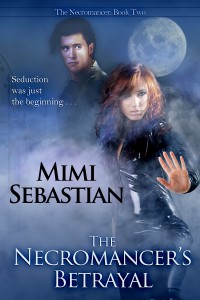 Book Two, The Necromancer's Betrayal, is now available in print and Kindle on Amazon! The book is on tour with Bewitching Book Tours.
I'm featured in the Night Owl Reviews September Magazine for a Quickie Author Interview!
Check out some of the exciting reviews for book one of the Necromancer Series, The Necromancer's Seduction, including this one from the Paranormal Romance Guild.
I'm also dabbling in a pirate historical series because I lust me some pirate swagger! The first book, Devil's Island, set sail February 2014 and is the first book of a series: The Sea Rover's Passion.
UPDATES:
A chance to win a copy of my pirate romance, Devil's Island!
"This was everything I love about a pirate tale." -Amazon review
By subscribing to my new release e-mail list below between now and Dec. 19, you'll be entered into a random drawing, to win a copy of Devil's Island (format will be your choice!).
Sign up below. TWO winners will be selected on Dec. 19, midnight EST.
Upcoming Blog Tour Stops
December 17:
 Coffee Addicts Books
December 23:
 Roxanne's Realm
Necromancer Seduction featured in Bewitching Book Tours Magazine!
Banner design by Annicka Rietveld