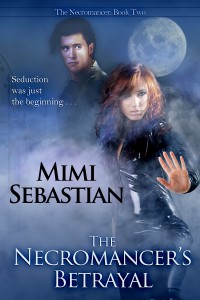 Amazon
Back Cover Copy:
Her powers have been hobbled. Her enemies are growing stronger.
Old loves challenge her. And her worst betrayer may be herself.
Necromancer Ruby Montagne is battling for her life in the realm of demons. Unfairly branded for the death of a fellow necromancer, she's got to prove her innocence without the full use of her magic. And the real culprit is still on the loose.
While someone is stalking her friends among the witches, Ruby searches for answers inside the dark intrigues of both the demon and necromancer worlds. Ruby must confront this new, sinister threat while reconciling her feelings for her former lover, a demon warrior. Only it's difficult . . . because a sexy vampire is making it clear that he'd like to be a lot more than just friends.
The competition for Ruby's trust heats up as the enemy pushes her toward a dark side that could threaten the entire realm. Yet what can Ruby do when she's not even sure what she is? With the fabric separating the realms at stake, she must decide whom to trust. But will the ultimate betrayal be her own?
From Books Bliss Blog:
This book is a very quirky well thought out read. I didn't know I was getting into something that was part of the books I normally deem don't touch (the cheesy supernatural romances). But this one was fantastic because it wasn't cheesy and sarcastic, it was actually funny and entertaining. Not to mention it's certainly more of an Urban Fantasy and I was very happy when I finished the book. I found Ruby to be entertaining and realistic. Her snark was well placed and her emotions were wonderful. The plot itself was fun and made for a quick read, in a good way. I loved reading the tale and think it was perfectly set for another book in the series while making sure to fully complete this one.
I love the back cover. I wanted to feature a cemetery angel because they are so cool and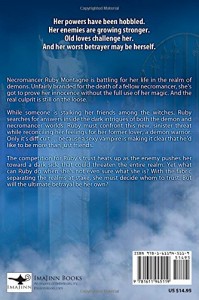 creepy.
Soundtrack Time!! As with all my books, I love sharing the music that inspired my writing.
6 Underground by the Sneaker Pimps
https://www.youtube.com/watch?v=2eBZqmL8ehg
Fade Into You by Mazzy Star
https://www.youtube.com/watch?v=ImKY6TZEyrI
We All Fall Down by Sweet Talk Radio
https://www.youtube.com/watch?v=ERtd2uPMU78
Bad Girls by MIA (scene where Kara and Ruby face against tornado from hell)
https://www.youtube.com/watch?v=2uYs0gJD-LE
Genesis by Grimes
https://www.youtube.com/watch?v=1FH-q0I1fJY
Providence by Ani Di Franco
https://www.youtube.com/watch?v=GZcOyUTRChk
I Bleed by the Pixies
https://www.youtube.com/watch?v=UpZeMQM8grM
Dangerous by Big Data (a Lysander and Ruby song)