Episode XIV raised the stakes in every way. I just loved it. The many intricate webs became even more tangled. Flint is juggling many flaming balls. It's enough to drive one mad, unless you already are mad. So how did our scurvy crew do?
"Who shits for an hour?"
"I do." Oh, Mr. Logan, I remember when you expressed concern for Billy Bones's neglected cock in Season One, but when you charged off to the brothel against the wishes of crew and captain, I knew you were not long for this world.
Long John slithers his way out of yet another flogging or keelhauling. Silver missed his calling as a campaign manager. Anyway, Silver has to be nervous about the beloved Billy's return, but it strengthens the epoxy of distrust binding him and Flint. Yet, Silver ain't taking no chances. I just wonder how the secret between him and Max will play out.
Number of Flint sneers. We got some bloody sneers. Not only did Flint sneer at Hornigold, but he gave him some pretty obvious eye rolls.
I'd sneer at Hornigold too. My fort! My fort! My little piece of turf. Can you dig it people! (Historical Spoiler: When the Brits eventually do take back control of Nassau, Hornigold takes a pardon from the new governor and serves as his pirate hunter. 'Es a bilge rat, that one.)
Flint is brilliant, delusional, or downright scaring the crap out of me. So, after some initial confusion from Episode XIII shockers, I believe he's bi-sexual, and truly cares for Miranda. Seeing him and Miranda together now, after all the flashbacks, makes their present scenes just crackle. Flint seemed to come to terms with his past and present and asked Miranda if she'll take him back, and they agreed to be partners.
On deck shenanigans. The parts involving Rackham and his need to prove himself to his crew were some of the best of the episode. Much was riding on this one prize and he knew it. When Jack and rival pirate captain, er, Linus, er Charles Manson, sat down to divvy up the spoils, I half expected them to break out the tea. It was a great moment showing another side to piracy not seen in stuff like Pirates of the Caribbean. I was however, waiting for someone to draw a cutlass. Sure enough, our cutthroats didn't disappoint. Rackham's no Charles Vane, but our man Jack has his own strengths and after he killed Manson, he freed the merchant crew so they could help fight the other pirate crew. And when Jack asked who would join him…the goat was the first to step up. This goat wants its rights attended to. No fucking goats on this crew.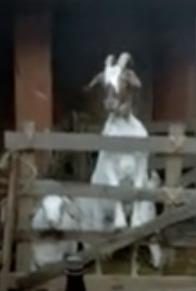 Wenches behaving bad-ass-ly. Anne Bonny on the rampage. So yeah, Mr. Logan's dick got the better of him. Anne is getting herself more and more entangled in Max's thighs. And honestly, I'm getting a little annoyed with our Anne. Jack did not betray her. His crew voted on the articles, and, if he is to be their captain, he has to respect what the men voted on. She's a pirate and she knows this! I believe we are going to get some Anne back story so maybe we'll see some traumatic shit that will explain her psychotic episodes, or we can just chalk it up to Anne's dark and wild "it".
Aaah! What is Eleanor thinking??!! Sigh.
Pirate history check. Vane doesn't care about legitimacy, but he knows once London gets control of Nassau, the pirates will be driven out. And he's right. I loved some of his lines to Eleanor: "When I take something from a man…I don't hide behind the law." He'll die before becoming another man's slave again. This is the Vane we know from history or a fictional semblance of him. When pardons are finally offered to the pirates, Vane wants nothing to do with it and becomes a de facto leader of the more hard core pirates. With forces closing in on him, he escapes New Providence, literally guns blazing.
Episode MBP (most badass pirate). In the last recap I wrote that I was going to give it to whomever wins the fight between Vane and Flint. Gosh darn it Eleanor! Bad form interrupting a good brawl. Now whom do I choose? Sigh. We know who Eleanor chose. As much as I like the push and pull between Vane and Eleanor, how their passion drives them together and their loyalties and agendas drive them apart, the new wedge between them saddens me. The chemistry between those two is great. Oh, yeah, badass pirate. My man Jack, all the way. And his first mate or quartermaster? Who is that guy? He's awesome too. He had to tell Jack the hard truth over why the men chose him as captain, not for his bad-assery, but because of Max's intel.
Billy Bones, Billy Bones is our true hero. It was so nice to see Billy welcomed back by his crew. He informed them the British Navy is camped close by. How did he get away, they ask? Oh, the captain wasn't looking and I tore off the shrinking leather, broke the chains that bind, and…oh…so yikes! The Brits are coming folks and they want Flint's head on a stake and Billy and some of his pardoned merry men will ride off into the sunset. Because that's about as likely to happen as Flint and Eleanor's vision for Nassau.
Jack Rackham quote to Manson, er, rival pirate about his ship, the Goliath: "Your ship is named after the greatest disappointment in the history of warfare?"
Too many scuttle butts to count. Great episode!